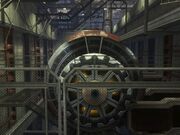 Zanzibar Municipal Turbine 7 was a turbine created by Buelterman Carney Cotton & Hayward Inc. In partnership with Traxus Heavy Industries, Tterrab Industries and the UNSCDF. It was featured on the Halo 3 multiplayer map Last Resort. The turbine generates electricity by harnessing the power of wind using the large 'blades' in the center of the map.
Ad blocker interference detected!
Wikia is a free-to-use site that makes money from advertising. We have a modified experience for viewers using ad blockers

Wikia is not accessible if you've made further modifications. Remove the custom ad blocker rule(s) and the page will load as expected.