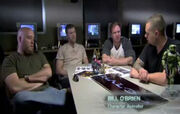 William O'Brien is an American animator, artist and video game producer. He is also a current employee of Bungie Studios. Born and raised in Boston, Massachusetts, USA, he attended art school and majored in animation. He specializes in both 2D and 3D animation.
He was credited as one of the animators for Halo 2.
Ad blocker interference detected!
Wikia is a free-to-use site that makes money from advertising. We have a modified experience for viewers using ad blockers

Wikia is not accessible if you've made further modifications. Remove the custom ad blocker rule(s) and the page will load as expected.