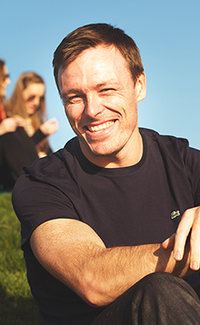 "The Halo Universe is an incredibly diverse and detailed world, so it should come as no surprise that the people who hone, refine and work within this universe come from a broad array of different backgrounds. In this series, Inside 343, we'll take a look at various individuals, faces both familiar and fresh, and their roles in helping to shape the world of Halo."

— Will Christiansen
"For Halo 4, I was the character owner for the Elite and was the point man for the first person animation system and the assassination system. I've been an Animator here just under two and a half years. Previously, I worked on Halo: Reach while I was at Bungie. My first job was to create DLC dragon-to-dragon flying assassinations for Lair on the PS3.
My favorite part of working on Halo games is the universe I get to play in. Sitting and working right at the crossroads between design, functionality and how our worlds come to life is what the primary role is for a Gameplay Animator at 343. I strive to constantly push greater character depth within the massive Halo sandbox and give our characters and our environments more immersive connection to the broader narrative context. I get to explore
how we tell story with our universe;I get to play where I work and I wouldn't
have it any other way."

— Will Christiansen
Halo 4 Animation Show Reel
Edit
Here is the Animation Show Reel I put together for Halo 4. There are a lot of assassinations on there – I'd say these are my favorite. Assassinations present an interesting problem for multiplayer gameplay which make them an interesting type of animation to work on. The content needs to read really well from several angles in a very short amount of time, as they can't be any longer than 2.5 seconds! That gives me about 75 frames to work with. All the stuff on my reel is hand-keyed animation (no mo-cap).
First Person Weapon Animations
Edit
Seen here are some clips of animation for the Scattershot and the Boltshot – I worked alongside designers to develop the concept of how the new Forerunner weapons form, how the pieces feel when they magnetize together, the timing, the overall feel and of course the most important thing: Are they fun to use? Yes. They are.
Boltshot
Edit
Scattershot
Edit