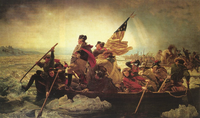 Washington Crossing the Delaware is a painting in UNSC HIGHCOM Facility Bravo-6, located three kilometers beneath Sydney, Australia on Earth. It depicted General George Washington and a number of Continental soldiers crossing the Delaware River during the Battle of Trenton in the American Revolution.
The painting has numerous historical inaccuracies, including the type of American flag used, the fact that Washington is standing, which possibly would have capsized the boat, and the presence of horses aboard.
Ad blocker interference detected!
Wikia is a free-to-use site that makes money from advertising. We have a modified experience for viewers using ad blockers

Wikia is not accessible if you've made further modifications. Remove the custom ad blocker rule(s) and the page will load as expected.