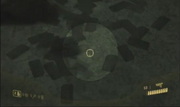 In lieu of the KFA-2 ×2 sight used on the M6D PDWS, the M6C/SOCOM utilizes the VnSLS/V 6E smart-linked scope, which is able to eliminate targets at increased ranges. Little is known about this scope, except that it zooms up to 4x, is mounted under the barrel of the M6C/SOCOM, and appears in Halo 3: ODST. It was balanced out to have the range and usage of the M6D, but damage was reduced, since Robert McLees had complained before that the M6D was used as a rifle rather than a handgun.[1]
Ad blocker interference detected!
Wikia is a free-to-use site that makes money from advertising. We have a modified experience for viewers using ad blockers

Wikia is not accessible if you've made further modifications. Remove the custom ad blocker rule(s) and the page will load as expected.