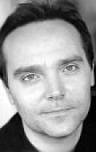 Vincent Rutherford
is an American actor and producer for video games and movies. He has been married to fellow actress
Kristen Rutherford
since the year 1998.
"Vinny" Rutherford is a native New Yorker with a reputation for excellence in his craft. Under the advisement of the dean of SUNY Purchase (Israel Hicks), Vincent turned down an offer from the Navy to enter their officer's training program to become a fighter pilot. Instead, he went on to graduate from the acclaimed 4 year conservatory program at Purchase and has been seen in numerous productions on and off Broadway. He currently lives in Los Angeles.
Yet another graduate of the State University of New York at Purchase (SUNY Purchase) whose prestigious alumni are collectively known as "The Purchase Mafia." Vinny was part of the class which trained actors Parker Posey ("Party Girl," "House of Yes"), Adam Trese ("Laws of Gravity," "Palookaville"), and Producer Todd B aker ("Men of Means"). Other Purchase notables are Sherry Stringfield, Wesley Snipes, Melissa Leo, Stanley Tucci, Seth Gilliam, Dwight Ewell, directors Hal Hartley and Nick Gomez, as well as Producer and Shooting Gallery Co-founder Bob Gosse.
He was the voice of "Gene" in I Love Bees, the viral advertisement to Halo 2.