Game Developer's Conference (GDC) is the world's largest and longest-running gaming professionals industry event. The conference contains 400 lectures, panels, tutorials and round-table discussions on a comprehensive selection of game development topics taught by leading industry experts. GDC 2013 begins March 25th and lasts March 29th.
This year, Halo 4 will featured in various panels. The summaries of these can be found below. We would like to ask, are there any elements or details of these sessions that you would be interested in getting more information about? How about any questions that you would like answered? Let us know in the comments: we will be attending these sessions, and can help gather the answers you seek! 
Bringing the Game to Life - Halo 4: Forward Unto Dawn Postmortem
343 Industries faced many challenges when they took on the 10-year-old Halo universe, and all the fan expectations that accompanied that universe. One of the most daunting tasks was determining how to introduce such an established fiction to potential brand-new fans, while simultaneously rewarding those who have played every game and read every book in the sizable, extended Halo fiction collection. Responding to fan appreciation of previous live-action marketing campaigns, Halo 4: Forward Unto Dawn was born. In this talk, 343 Industries will do a postmortem of the creation of the groundbreaking web series, and what lessons were learned. The talk will cover everything from developing partnerships in Hollywood, adapting game content for different media, and how to coordinate fiction between the very different schedules of movies and game creation.
The Design of New Enemies for Halo 4
Halo Reborn: A Postmortem on the Creation of Halo 4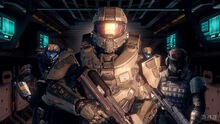 343 Industries was formed with a monumental task: to build a new studio from scratch and take over a much beloved universe from legendary developer Bungie. Their first internally developed title, Halo 4, was released on November 6, 2012 to widespread critical acclaim. In this session, franchise creative director Josh Holmes will discuss how the studio managed to overcome the overwhelming odds and many challenges involved with assembling a brand new team to deliver a game worthy of the Halo franchise legacy.