Ad blocker interference detected!
Wikia is a free-to-use site that makes money from advertising. We have a modified experience for viewers using ad blockers

Wikia is not accessible if you've made further modifications. Remove the custom ad blocker rule(s) and the page will load as expected.
Hey everyone, Spartawhale here. For those of you who were not aware, the Cartographer's Gift content update for Halo 5: Guardians went live this morning at around 9:30 AM PST! This content update is free and should automatically prompt the player to download upon starting the game.
---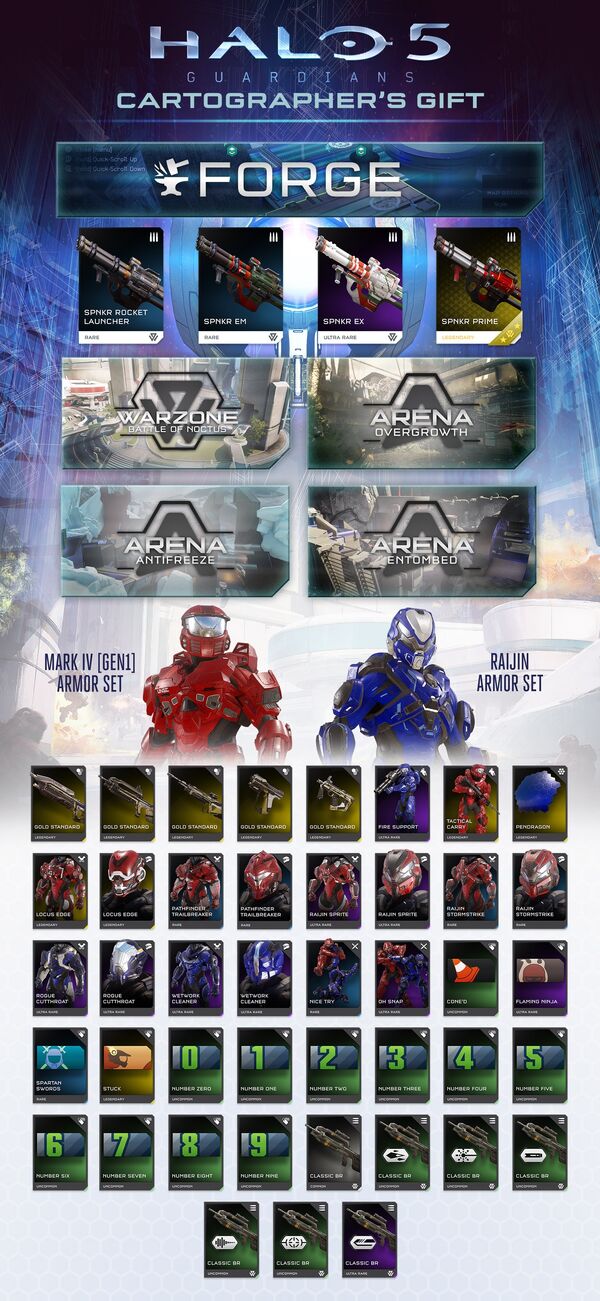 Contents
As shown in the above image, the update includes:
Forge controls
As Forge has been redone heavily, I thought I would give a quick reference list for the new and improved controls.
Left Stick: Camera: Move, Change Speed, [Hold] Speed: Boost, Right/Left: Rotate [Blue Axis], Up/Down: Rotate [Blue Axis], Move: Objects
Right Stick: Camera: Look, Camera: Lock-On
A: Camera: Down, Move: Objects: Down
B: Camera: Up, Move: Objects: Up
X: Map/Tool: Options [menu]
Y: Object: Place [menu]
RB: Selection: Add, Selection: Remove
LB: Selection: Remove All
RT: [Hold] Rotate: Mode [enter], [Release] Move: Mode [exit]
LT: [Hold] Move: Mode [enter], [Release] Move: Mode [exit]
D-pad (right): [Hold] Object: Duplicate, Snap Move: Increment, Snap: Rotate: Increment
D-pad (left): [Hold] Object: Delete, Snap Move: Increment, Snap: Rotate: Decrement
D-pad (down): [Tap] Spartan Mode, [Hold] Spartan Mode (Bake Lights), Rotation: Reset
D-pad (up): Magnets: Disable
---
Hope you all have fun playing! Feel free to leave any thoughts about the Cartographer's Gift update below! Peace out.--

Spartacus Talk
See also