Greetings, Spartans! The Halo Championship Series Season 2 finals are all set to begin on Friday, July 24th, at the Electronic Sports League Studios in Burbank, CA. The teams will be squaring off in a series of rousing games of Halo 2 Anniversary, the remastered version of Master Chief's second console offering. Wikia has all of the information you need to know about the event: the major players, the schedule, the game types, and more.
If this season has been any indication, the finals are going to be riveting. Last year's winners, the Evil Geniuses, are the number one seed with a significant point lead over their contenders after a season of incredible performances. That said, the second-seeded Denial is hot on EG's tail, and the other six teams certainly won't give up without a fight.
Stay tuned for more information about the Season 2 finals!
Dates
The Halo Championship Series Season 2 finals are set to take place July 24th-26th, 2015.
Bracket
(This will be updated as the finals progress.)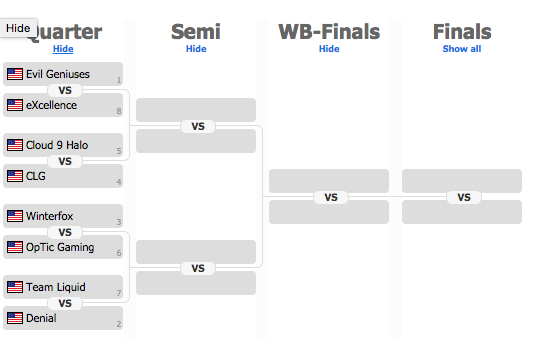 Click here to learn more.
Quick Rules
(Taken from the ESL Gaming Info Page)
Match Progress When the cup begins check "My Matches" and contact your opponent via Xbox Live to start the match. Be sure that you are aware of which team should be hosting the lobby to avoid confusion. The higher seed will host the first map. Host will alternate each game until the series is completed. Matches leading up to the Grand Finals will consist of three maps. Whichever teams wins two maps first will proceed to the next round.
Team Colors The higher seeded team will always be Red. The lower seeded team will always be Blue.
Settings Be sure to download all gametypes and map variants from the "Official HCS" file share by adding the account to your friends list. Before a game begins, verify that all of the settings are correct. If a game is hosted with incorrect settings, it will need to be ended and restarted with correct ones. Please check all game mode settings under rules.
Map Rotation The maps and gametypes for each round can be found here.
Score Disputes Both the winning and losing teams should be reporting match scores at the end of each series. If there are any inconsistencies in the reported scores, please contact us via support with valid proof. Team captains are responsible for taking pictures of the post-game summaries or providing video evidence for proper proof. Uploading clips to xboxclips.com is the best way to provide video evidence.
For the complete rules, click here.
Team Profiles
Gametypes and Maps
---
---