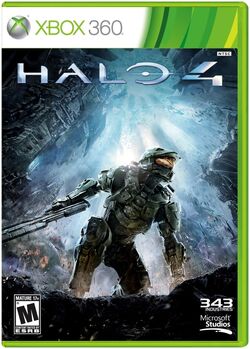 Halo 4
has arrived, at last! After all the wait, and the trepidation surrounding
Bungie
's departure from the series, how does the game hold up? Check out the critical responses below.
And most importantly! When you finally finish the game, come back and leave your own reviews in the poll and in the comments below!
Loved it!
10/10
" But the overall question persists: do we need another Halo trilogy? The answer to that is a surprising no, for you, the general public that's looking for nothing more than a minor multiplayer distraction. But from one dedicated Halo fan to those looking for an evolution in story, creation, and online play, yes, we freakin' do. It feels good to finally say after many years that Halo is back."
10/10
"343 Industries have done a remarkable job at continuing the Halo legacy. They've gone all out, creating a fantastic sequel that brought forth a major focus on storytelling while upping the visual and audio direction to a level that will be tough for anyone to rival with these few remaining years of the current console generation."
9.8/10
"Cortana once asked Master Chief what would happen if he missed his target, and in the single greatest line of dialogue in Halo history, Chief replied with the coolest, calmest confidence, 'I won't.' With Halo 4, he doesn't.
9.5/10
"While Halo 4 continues the series' tradition of iteration on its own design more successfully than any one of its predecessors, that sense of awe, of discovery, has been light since the first game, and I didn't realize how much I missed it until I played Halo 4. Halo is in new hands with 343i, but the studio nailed exactly why the series became a genre-defining franchise. And it's exciting to think about where it goes from here."'
9.25/10
"Whether I am watching a grenade explode a Promethean into a shower of sparks or charging with friends at my side through a cooperative adventure, Halo 4 makes the series feel new again. 343 Industries' clear affection for the property shines through, leaving me thrilled to join Master Chief for another decade in defense of the galaxy."
Thought It Was OK
7/10
" It's been an impressive run, but after a decade of the same basic experience, I can't escape the feeling that Halo needs to try a bit harder. Fans of the game will have a blast here, and the multiplayer is something special, but if you expected Halo 4 to keep up with the Joneses, you might be disappointed."'
Hated It
No critics have given Halo 4 a negative review as of yet.
Wikian Reviews
What do you think of Halo 4?