Welcome all!, to the sixth iteration of Halopedia's Funniest Video of the Week. I apologize for the long hiatus between the weekly segments, though I plan to make it more frequent from now on. This weeks video comes from the adaptation of the recount of a Rolling Stone's journalist on the 1st Recon Battalion of the U.S. Marine Corps during the opening days of Operation Iraqi Freedom, in Generation Kill.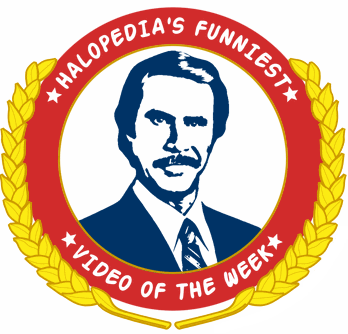 This weeks award goes to Generation Kill and a couple of short clips of the comedy of an invasion. And yeah, I don't want to hear your stupid opinions on the Second Gulf War in the comments below, other than discussing the end of the first video.
So now I give you, the video(s) for the week of May 11th to May 18th. Enjoy and I hope you like it.
MATURE CONTENT
NOT SAFE FOR WORK
CONTENTS WILL MAKE YOU LAUGH LIKE FREAKING CRAZY
I STRESS THAT IT IS NOT SAFE FOR WORK AND CHILDREN
YOU HAVE BEEN WARNED
420px
420px
420px
420px
I hope you enjoyed these fine and funny videos, and I can't wait to post next's week iteration on Monday, May 25th, 2009!

Have a good day and see you next week!

Also, if you have any suggestions for videos, please enter it as this: VIDEO: ENTER LINK HERE. Thank you!