No, this isn't just some happy fancy blog about the connection between the Humans of Battlestar Galactica and the Forerunners of Halo, oh no...this is a super parody, one which I have been working on for 3 (hours) days.
As many of you know, really only the people who frequent Halopedia's and Halo Fanon's IRC channels, i've recently grown obsessed with Battlestar Galactica, after purchasing the first few seasons of the show. In watching it, I can find many parallels with the Halo universe, especially within the Humans (BSG) and the Forerunners (Halo). Though that's another blog for another day, one which I will create in the next couple of weeks.
So, here it is: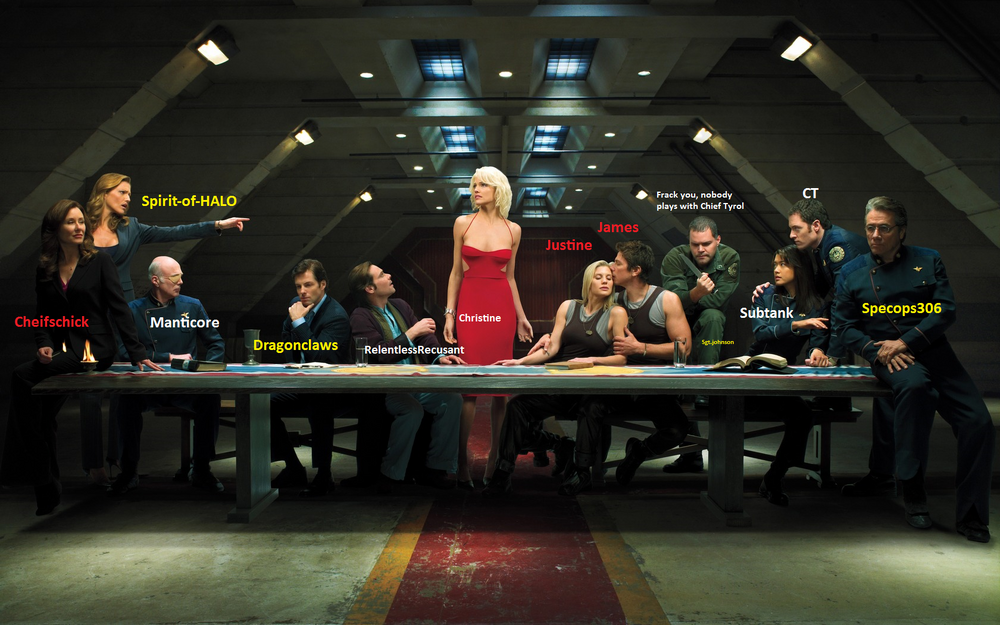 Here is a list of characters and why I chose them, going from left to right on the page. Each character will have a link provided by the Battlestar Wiki. Granted, some of these are meant as jokes, and I placed their names with no real thought or logic.
Well I hope you enjoyed it, I know I did! Stay frosty Halopedia! To anyone who I forgot (obviously since there aren't 5,000+ people in the picture), you are still in my thoughts. To anyone I might have offended....oh well, it's the internet XD.