Hello fellow Halopedians! I am here with news! News about Halloween on Longshore. But this must be done TODAY.
You guys know the sign about Fish Tacos... Where it says PIE on Friday, well there, it says: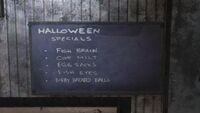 HALOWEEN SPECIALS

FISH BRAIN

COD MILT

EGG SACKS

FISH EYES

BARRY BREADED BALLS
And on the sign that says, SUCK IT FRONK, instead, it shows, a picture of the Oddball Logo. I have proof!