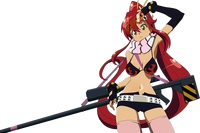 "The dreams we left behind will open the door!" -Yoko Littner
---
Hi there and welcome to my userpage! I've been here since March 23, 2012. If you need to contact me leave a message at my Talk Page or you can see me in chat! See you around!  
---
 1pxv/XVAsupiz1X81
---
Yoko Littner



Alias

Yoko

Gender

Female

Age

18

Occupation

Student

Likes

Cars, Weaponry, Parkour, Music, MMA, & Halo

Dislikes

Whiners, Immature People, Ricers, & Attention Seekers

I go by the alias of Yoko Littner, and I am a user at HaloNation, HaloHub, Community Central, and Dragonball wikia. I currently moderate CrossoverRP since I really love to roleplay. I was born on July 15, 1994 in Long Beach, CA. I currently live alone in my own apartment since I like to be independent.

Interests

Anime
Technology
Animals
Instruments of all kinds
Cosplay
Cooking
Martial Arts
Pretty profile pages
Talking
Roleplaying
---
What do you honestly think of me?
---