Alex-516
Biographical information

SPARTAN tag

ULTI

Homeworld

Birth date

May 16, 1991

Physical information

Gender

Female

Height

5'10" in MJOLNIR

Hair color

Brown

Eye color

Blue

Affiliation and military information

Affiliation

Rank

Brigadier Grade 3

Specialty

Assault, distraction

Class

Spartan-IV SR13
About Me
My real name is Alexandra. I go by Alex. I was born in New Jersey and ended up moving to California for college. I am currently on a leave of absence from college to focus on some medical needs of mine.
http://www.bungie.net/Account/Profile.aspx?player=UltimatBlitz
I started playing with Halo 3 when I first got a shared Xbox 360 with my brother. Up until then I had never even known who Master Chief was. But since I love cool armors, I instantly fell in love with the Spartans. I went back and played Halo CE and Halo 2 after I beat Halo 3, so I started thinking I liked shooters. I appear to have been wrong, because CoD only led to frustrations after a few days of playing. Kill Zone and Resistance didn't do it for me either after I got my PS3. In fact, only Gears 3 comes even close to Halo for me, and part of that reason is because I can put a rainbow skin on my guns. I just don't get into shooters like I do other games, and Halo's rich universe and beautiful appearance are really what allowed me to get into the game play.
I started collecting the toy line by McFarlane with a series 1 Master Chief, and that toy is still my favorite toy ever, even though he doesn't fit in with the new Reach scale. In fact, he looks like a girl next to the new scale Master Chiefs that just came out.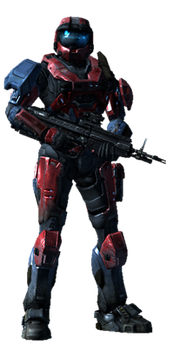 ]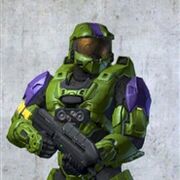 Goals
4:
Sunspot Visor
Mark VI armor
Reach:
Likes and Dislikes
Likes
MJOLNIR Powered Assault Armor (especially Mark VI)
Anime: Mostly romantic comedies, but also some action, like Bleach.
Manga: No, it's not the same as anime. Most short anime do not capture the true feel of the original manga.
Figure collecting: Action figures. I can't stand if I can't change their pose. Mostly collecting Halo figures right now
Dislikes
Fanboy Extremists: You know the kind (This includes girls too if they do it--I've just never met a girl who has).
System types: The Xbox ones call the PS3 and Wii stupid but never seem to have a reason besides they only own an Xbox. PS3 ones call the Xbox and Wii stupid but never seem to have a reason besides they only own a PS3. I've never ran into Wii fanboys.
Game Types: Saying one shooter is stupid because it's not another shooter. For example: "Halo sucks, CoD is amazing. That's just how it is."
Zombies: the undead creatures, not the game type.
Spiders: I know they serve a purpose, but they way they move creeps me out.
Quotes
I personally think we developed language because of our deep inner need to complain.
-cmarilync
Lucifer picked on me...so I beat his body into the muddy ground!
-UltimatBlitz talking about another player on Reach
The internet is a sea of raw power in data form, and you shall now drown in it.
-UltimatBlitz while dead tired around 3 am
Think of the combined force of a pissed spoiled cat and pissed spoiled girl...I want that power.
-UltimatBlitz
Death is nice...it makes annoying people not live.
-Grinning