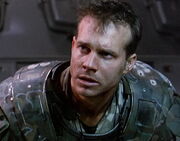 A lot of people like to tell their whole life story here; you know, what they're good at, what they do for a living, et cetera. I will not do that.
I'm just this guy, you know?
So, I used to hang around Halopedia, and then one day I stumble upon this little place. So I created an account, went on the chat, and liked it here. So, here I am.
My personal favourite Halo game is 3, which is very widely regarded as such. My favourite gametype is Team SWAT, which no doubt must come as a surprising plot twist. If you see me around in Team SWAT, please stand perfectly still and say hello.
Anyways, from what I gather, people like to set goals for themselves here.
Edit stuff on this wiki
Play Halo
Conquer the Moon.
Maintain Halo Answers
Moderate the chat
Stuff I like
Edit
Naturally, I like Halo. Some other things I quite enjoy are MLP:FIM (Twilight Sparkle is best pony), Portal, Doctor Who, Star Trek, Firefly, and books. I also happen to know where my towel is. I like to think I'm a well rounded geek.
Games I Play
Edit
Xbox 360
The Orange Box
Portal 2
Left 4 Dead
Counter-Strike: Global Offensive
Minecraft: Xbox 360 edition
Battlefield 1943
Battlefield: Bad Company
Battlefield: Bad Company 2 (PC)
Battlefield 3
Medal of Honor: Airborne
Endwar
Playstation Vita
Unit 13
Uncharted: Golden Abyss
Assassin`s Creed III: Liberation
Wipeout 2048
Rayman Origins
PC
Mass Effect
Mass Effect 2
Mass Effect 3
Fallout 3
Fallout New Vegas
The Elder Scrolls IV: Oblivion
The Elder Scrolls V: Skyrim
Deus Ex
Deus Ex: Human Revolution
Company of Heroes and all expansions
Metro 2033
Just Cause 2
FTL
Black Mesa
Half-Life
Half-Life: Blue Shift
Half-Life: Opposing Force
Half-Life 2 and all episodes
Half-Life 2: Lost Coast
Counter-Strike
Counter-Strike: Condition Zero
Counter-Strike: Source
Counter-Strike: Global Offensive
Portal
Portal 2
Team Fortress Classic
Team Fortress 2 Beta
Team Fortress 2
Left 4 Dead
Left 4 Dead 2
Day of Defeat
Day of Defeat: Source
Alien Swarm
Garry`s Mod
Dino D-Day
Wargame: European Escalation
Brothers in Arms: Hell`s Highway
Halo: Combat Evolved
Halo Zero
Aliens: Colonial Marines
Quantum Conundrum
Online Game Services
Edit
If you would like to add me as a friend on XBL, too bad. If you would like to add me on Steam, I am SWATminifigGUY. If you want to friend me, state who you are here. I may or may not accept.
Friends and Acquaintances
Edit
Feel free to put yourself in this list. If you don't, that's fine, I still think you're a pretty hoopy frood.
First Grif was here (talk) 16:07, July 11, 2012 (UTC)
Howdy! File:T3CHNOCIDE-Signature-Small.pngFile:Contact.png 16:09, July 11, 2012 (UTC)
I decree, you shall come with us! To pony island! -

The

Ultimate

H4M

Talk 16:02, August 7, 2012 (UTC)
This is just shiny, you gorram purple-belly. Karl-591 (Talk) (Contribs) 04:36, August 10, 2012 (UTC)
I'm just gonna sign this again for the hell of it. *Boop* -

The

Ultimate

H4M

Talk 22:49, September 2, 2012 (UTC)
Greetings, Officer Swat.

~President Celestia~

[Office]

[Confirmed Kills]

Hai der SWAT :D--

Spartacus0898

(

Talk

) 02:58, October 9, 2012 (UTC)
I be yer freind!! --Legolij1028 (talk) 02:17, November 9, 2012 (UTC) Legolij1028
Am I your friend? Of course! :D  

343 TheGuiltyProphet

 | 

TALK

-

EDITS

  |  18:35, December 19, 2012 (UTC)
Hey swat KnightmareS-C075 (talk) 00:23, January 10, 2013 (UTC)
The fact I have not posted here disturbs me greatly.... --A.J. (talk) 00:42, February 14, 2013 (UTC)
My favorite pages
Edit
Chat Business
Edit
Hey. You may have noticed that I am a Chat Moderator. This means that I have been entrusted with the task of enforcing the rules. Now, I may have KICKED or BANNED you if you were not following them.
If you were kicked and wish to protest that, here's a piece of advice. DON'T. It's trivial stuff, man.
If you were banned and wish to protest that, leave a message at my talk page.
Do NOT come whining to me about anyone else who may have banned you. Whine to them instead.
You may also want to inform me of issues not related to kicks or bans. If so, contact me at the CHAT or my TALK PAGE.
KTHXBAI
Fun Stuff
Edit