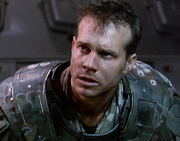 Fun facts about me:
1.) I am a carbon based life form. 2.) I like Halo. 3.) I'm a big PC gamer. Halo is like heroin to me though. 4.) I have a BlackBerry. I'M HIP GUYS I SWEAR. 5.) Possibly the most unremarkable man currently living.
Stuff I like
I'm a fan of this newfangled thing they like to call video games. It's a little new, you might not have heard of them.
I also like these things called movies and books.
Games I Play
And beyond that I have so many other games. So many. H̶E̶L̶P̶ ̶M̶E̶ I have so much fun. Some notable favourites of mine include:
Alien Isolation
Counter-Strike: Global Offensive
Call of Duty 4: Modern Warfare
Fallout: New Vegas
FTL
Kerbal Space Program
Wolfenstein: The New Order
XCOM: Enemy Unknown
As a footnote: I really like Kerbal Space Program. If there were Kerbal Space Program themed cyanide capsules I'd probably own seven. What I'm trying to say is that it's really good.
Friends and Acquaintances
Feel free to put yourself in this list. If you don't, that's fine, I still think you're a pretty hoopy frood.
First Grif was here (talk) 16:07, July 11, 2012 (UTC)
Howdy! File:T3CHNOCIDE-Signature-Small.pngFile:Contact.png 16:09, July 11, 2012 (UTC)
I decree, you shall come with us! To pony island! -

The

Ultimate

H4M

Talk 16:02, August 7, 2012 (UTC)
This is just shiny, you gorram purple-belly. Karl-591 (Talk) (Contribs) 04:36, August 10, 2012 (UTC)
I'm just gonna sign this again for the hell of it. *Boop* -

The

Ultimate

H4M

Talk 22:49, September 2, 2012 (UTC)
Greetings, Officer Swat.

~President Celestia~

[Office]

[Confirmed Kills]

Hai der SWAT :D--

Spartacus0898

(

Talk

) 02:58, October 9, 2012 (UTC)
I be yer freind!! --Legolij1028 (talk) 02:17, November 9, 2012 (UTC) Legolij1028
Am I your friend? Of course! :D  

343 TheGuiltyProphet

 | 

TALK

-

EDITS

  |  18:35, December 19, 2012 (UTC)
Hey swat KnightmareS-C075 (talk) 00:23, January 10, 2013 (UTC)
The fact I have not posted here disturbs me greatly.... --A.J. (talk) 00:42, February 14, 2013 (UTC)
You seem lonely. Like me! Might as well put myslef here.-- Veni. Vidi. Corregi.

Talk

  

Edit Count

   01:03, October 8, 2015 (UTC)
My favorite pages
Chat Business
Hey. You may have noticed that I am a Chat Moderator. This means that I have been entrusted with the task of enforcing the rules. Now, I may have KICKED or BANNED you if you were not following them.
If you were kicked and wish to protest that, here's a piece of advice. DON'T. It's trivial stuff, man.
If you were banned and wish to protest that, leave a message at my talk page.
Do NOT come whining to me about anyone else who may have banned you. Whine to them instead.
You may also want to inform me of issues not related to kicks or bans. If so, contact me at the CHAT or my TALK PAGE.
KTHXBAI
Fun Stuff