Welcome

SPARTAN

!
Today is Thursday, December 12, 2013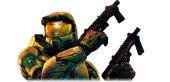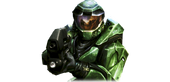 "You've just got Sarge'd!"
Welcome, to this very bad setup of a users page that's mines. Listen to some music or read the stupid summaries, whatever, do whatever (no editing)!!
Halo 4 Original Sound Track, Vol. 2, Track 12 - "Lasky's Theme"
I have been a fan of Marathon, one of Bungie's older games when I was just a PC gamer. About around November of 1999, One of my friends told me that Bungie was revealing something new. I had to know what it was! I literally looked everywhere and start to believe my friend was lying because that was the only thing he told me, the only clue to the puzzle. I went to an old magazine stand around Times Square to get another Computer Gaming World Magazine and then it hit me! With the big letter's "THE NEXT BIG THING", I knew I finally found it.
TO BE CONTINUED
PlayerCard
Edit
What is RWBY?
Edit
RWBY (pronounced Ruby) is an original western anime-style web series created by Monty Oum and produced by Rooster Teeth Productions, the creators of Red vs Blue. The Show main character consist from the title meaning:
"RWBY brings four very different girls together for one legendary purpose. These four fighters will come face-to-face with menacing creatures, devious villains, and an incredible cast of characters."

—Joshua Silverman
The first footage of the show was seen on November 5th, 2012 when a trailer featuring Ruby was shown at the end of the Red vs Blue Season 10 Finale.
The first episode of the series premiered live at RTX 2013 (July 5-7, 2013 in Austin, Texas). All subsequent episodes are released every Thursday at 7 PM EST for the general public on the Rooster Teeth website. They also upload an episode to Youtube at the same time, but the episode uploaded is the one before the episode on their main site.
Courtesy: RWBY Wikia
Note: Each song consist of 10 hours!
RWBY: Red Like Roses II - Jeff Williams (Players and Pieces), RWBY)
RWBY: Chapter 1 - Jeff Williams (Ruby Rose (Pilot), RWBY)
This Will Be The Day - Jeff Williams (Theme, RWBY)
I Burn - Jeff Williams (Yellow Trailer, RWBY)
From Shadows - Jeff Williams (Black Trailer, RWBY)
Mirror Mirror - Jeff Williams (White Trailer, RWBY)
Red Like Roses - Jeff Williams (Red Trailer, RWBY)
Courtesy: Grifball25, Youtube (Video)/ Roosterteeth, RWBY Team (Creation)/ Jeff Williams, Composer (Songs).
History of my User picture
Edit
Sig Shortcut
Edit
Sig1 - Sig2
.GIF pictures
Edit
Non .GIF pictures
Edit