| | | |
| --- | --- | --- |
| | Greetings! I am 049 Diffident Adherence. | |
About Me
My name's Tom, and I'm currently living in Brisbane, Australia. I've always been a massive fan of Halo, ever since I played Halo: Combat Evolved for the first time on the Xbox. Particularly, I'm a major sucker for Halo lore, and love absolutely everything about it. I'm a very big fan of Eric Nylund, and all the Halo books in general. You won't find me playing Xbox LIVE very often, however, since I'll probably be too busy studying or doing something else - like editing Halopedia!
Wiki Philosophy
I believe it's very important that Halopedia continues to be a valuable, non-biased and informative source for all things Halo. I strongly emphasise the difference of fact and opinion, and the importance of referencing such facts and making sure to clearly differentiate between verified facts and speculation.
Current Projects
Project: DELTA HALO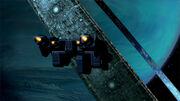 Goal: To clean up all of the Halo 2 single-player articles, by means of...
Replacing low quality images with higher quality/more suitable ones.
Developing/ensuring the use of a common article format.
Cleaning up and standardising walkthroughs.
Tidying up Trivia sections.
Progress: I've nearly completed replacing all level images with higher qualities ones. Started making minor edits to content here and there.