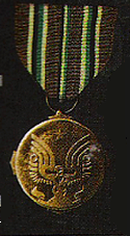 The Unknown UNSC Medal is a decoration/medal given to soldiers, sailors, marines, and airmen in the UNSC defense force. It is rumored to be similar in function to the Colonial Cross, one of the highest decorations in the UNSC. It may be for serving in the Human-Covenant war campaign medal.
It has been seen in several Halo 3 advertisements. The medal is shown being gold with the UNSCDF insigna.
Ad blocker interference detected!
Wikia is a free-to-use site that makes money from advertising. We have a modified experience for viewers using ad blockers

Wikia is not accessible if you've made further modifications. Remove the custom ad blocker rule(s) and the page will load as expected.