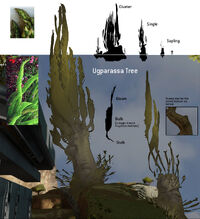 The Ugparassa tree is a plant that can be found on a variety of Forerunner worlds, including the Shield World Requiem. Many were found growing within the vicinity of Galileo Base.
The tree's name, "Ugparassa" is an anagram of of the word "Asparagus."
Appearances
Edit
Ad blocker interference detected!
Wikia is a free-to-use site that makes money from advertising. We have a modified experience for viewers using ad blockers

Wikia is not accessible if you've made further modifications. Remove the custom ad blocker rule(s) and the page will load as expected.