UNSC Special Forces
Talk

2
8,182pages on
this wiki
The UNSC Special Forces are the special warfare branch of the UNSC Defense Force.[1]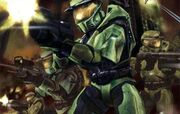 SPARTANs are the most skilled and disciplined soldiers available to the UNSC. Conscripts to the later two programs take part in intense combat training at an early age, and are given the performance enhancing MJOLNIR Powered Assault Armor and the Semi-Powered Infiltration Armor, generally to the SPARTAN-IIs and the SPARTAN-IIIs, respectively, (with the Special Warfare Command fireteam Noble Team being a known exception), making them extremely skilled in combat.
Below are all known SPARTAN squads and companies.
Many UNSCDF personnel were part of the ORION Project, specializing in covert operations, assassinations, and conducting high-priority, high-risk operations against enemy forces. Numerous units are under the supervision of Section Three within the Office of Naval Intelligence, which coordinates their special operations missions; one such unit would be the members of the various SPARTAN-II teams.
Orbital Drop Shock Troopers
Edit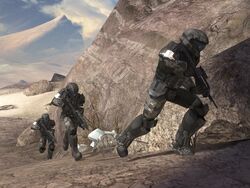 The Marines Corps' Orbital Drop Shock Troopers are an important part of any UNSC invasion force. Disciplined and skilled, they drop into the most hostile areas via SOEIVs. They attempt to complete some of the most difficult tasks in hostile areas, such as clearing enemy ground forces or establishing landing zones for incoming Pelicans.
Below are all known ODST units.
Force Recon
Edit
The UNSC Marine Corps Special Forces contingent focused on infiltration, assassination and recon. Force Recon functions in a capacity opposite to the ODSTs, the Marine Corps' other Special Forces unit, with a greater emphasis on stealth, guerrilla warfare and ambush tactics.
ONI Security
Edit
The ONI Security a personal security division of ONI by Naval Special Warfare Group. They are recruited from the Army and Marines and placed in high priority locations. Their attire is a darkened version of the Marine BDU with heavier armor.
Special Warfare Command / SPECWARCOM
Edit
Special Warfare Command (SPECWARCOM) is a special forces branch of the United Nations Space Command, directly subordinate to Unified Ground Command and indirectly to UNSC High Command. SPECWARCOM is the special forces branch for ground forces, which is mainly the UNSC Army. The command consists of various special operations teams that conduct covert operations against both the insurrectionists on UNSC controlled planets and the Covenant. The command also has tactical control of SPARTAN units for specific operations that fall under Unified Ground Command jurisdiction and this was evident during the Fall of Reach.
Appearances
Edit