| | |
| --- | --- |
| | This article may not meet Halo Nation's standards. You can help by cleaning this article. |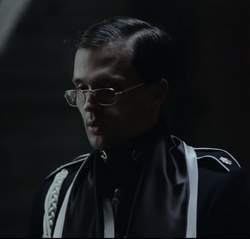 The UNSC Marine Chaplain's Corps consists of ordained clergy who are commissioned Marine officers.
It is likely that the Chaplain's Corps draws its existence from past earth militaries, most notibly the United States Military, which consisted of the Army Chaplain's Corps, Air Force Chaplain's Corps, and Navy Chaplain's Corps.
A Marine Chaplain appeared for the funeral of K. Stark.[1]
Their purpose is to offer religious services, counseling, and moral support to the armed forces, whether in peacetime or at war.
Chaplains are commissioned officers, and may be granted up to the rank of Lieutenant Colonel (O-5).
Ad blocker interference detected!
Wikia is a free-to-use site that makes money from advertising. We have a modified experience for viewers using ad blockers

Wikia is not accessible if you've made further modifications. Remove the custom ad blocker rule(s) and the page will load as expected.