UNSC Canvas Messenger Bag
Talk

0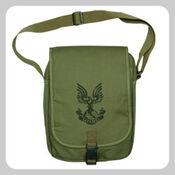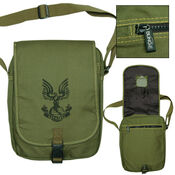 "Ladies and Gentlemen, meet the bestseller at this year's PAX 07 conference! This UNSC military-inspired pack flew off the shelves, and since we have a few left over we thought we'd extend the offer to you fine folks! Big enough to stash your goodies, but small enough to keep from being obnoxious. Features contrast stitching, a distressed UNSC logo and special story sewn on the inside patch."

— From the Bungie Store
The UNSC Canvas Messenger Bag is an item available from the Bungie Store. It's a UNSC messenger bag made of canvas. It has two main pockets, with a flap that goes over the outside of both. The flap has a distressed UNSC logo on it.[1]
Dimensions
Edit
The bag is about 14 inches high and 10 inches wide. It is roughly three inches in depth, while empty.
Inside Flap
Edit
On the inside of the flap, the following is sewn on a patch:
   "The contents herein are protected by UNSC Martial Circumstance Rules and the Official Secrets Act of 2550. Penalty for unauthorized dissemination or distribution of these contents is summary execution by a UNSC authorized firing squad. This is a field issue Messenger Satchel and as such is protected by extraordinary wartime provisions. This satchel is rated for safe transport of UNSC-rated plastic and chemical munitions, as well as known types of Covenant material, including Plasma and Brute Grenades."
This product is no longer available.