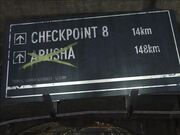 The Tterrab Highway Authority is a subdivision of Tterrab Industries, an organization based on the East African Protectorate on Earth.[1]
Background
Edit
The Tterrab Highway Authority monitors and supervises all highways in Kenya and surrounding areas. Most notably, the Tsavo Highway that runs from Voi to Mombasa, as well as the New Mombasa 105 East.
Ad blocker interference detected!
Wikia is a free-to-use site that makes money from advertising. We have a modified experience for viewers using ad blockers

Wikia is not accessible if you've made further modifications. Remove the custom ad blocker rule(s) and the page will load as expected.