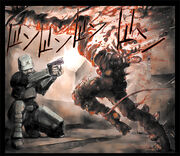 Tsutomu Nihei (born 1971) is a Japanese manga artist. He is relatively lesser known outside Japan, though his cyberpunk-influenced artwork has gained a strong cult following.
Nihei has produced everything from erotic manga to the BLAME! series. He was responsible for both the art and the story for the section of the Halo Graphic Novel called "Breaking Quarantine: The untold story of Sergeant Johnson's escape from the Flood.
Related Links
Edit
Ad blocker interference detected!
Wikia is a free-to-use site that makes money from advertising. We have a modified experience for viewers using ad blockers

Wikia is not accessible if you've made further modifications. Remove the custom ad blocker rule(s) and the page will load as expected.