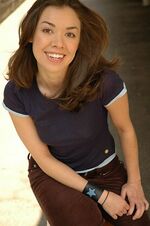 Tara Platt played a number of characters in the Halo 2 promotional game, i love bees. Specifically, she played:
You can hear her voice as Genie in the Dizzy Axon.
Tara O. Platt is an American film and television actress in as well as a voice actor. She is married to fellow voice actor Yuri Lowenthal.
Platt studied at Rutgers University and at the London Academy of Theater, where she received a BFA in theater arts. Platt has performed in a number of shows written and directed by John de Lancie. She played Juliet in Romeo & Juliet (with both the Pasadena Civic and the Toyota Youth Shakespeare Series with the Los Angeles Philharmonic); Titania in A Midsummer Night's Dream; Katherine in The Taming of the Shrew; and appeared in First Nights: Clara and Robert Schumann at the Walt Disney Concert Hall as Clara Schumann, in a role written for her by de Lancie.
Platt is a member of the sketch comedy troupe Foe Pa in Hollywood.
Tara is also a certified Feng Shui consultant through the Shambhalla West Coast Institute.
Platt co-founded Monkey Kingdom Productions with partner Yuri Lowenthal in 2004. Monkey Kingdom Productions is an independent film production company, having produced Lowenthal's Tumbling After in 2007.