Suppressor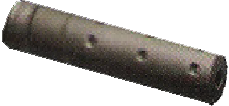 A suppressor is a device attached to a firearm to reduce the amount of noise and flash generated by the weapons. It generally takes the form of a cylindrically-shaped metal tube that is attached onto the barrel of a firearm, with various internal mechanisms to reduce the sound of firing by slowing the escaping propellant gas, and sometimes by reducing the velocity of the bullet. The point is to keep the user concealed and undetected.
Appearances in Halo
Edit
The suppressor makes its first gameplay appearance in Halo 2 Vista, and is mentioned in The Art of Halo,[1] on the M7S Caseless Submachine Gun. In Halo 3: ODST it has made an appearance attached to the end of an M7S SMG and M6C/SOCOM used by an ODST. In the novels, the suppressor was used in many battles by the SPARTAN-IIs, when they attached it to their MA5Bs,[2] and the suppressed version of the M7 was also used by Staff Sergeants Byrne and Johnson at the beginning of Halo: Contact Harvest.
Known Suppressors
Edit
References
Edit
Ad blocker interference detected!
Wikia is a free-to-use site that makes money from advertising. We have a modified experience for viewers using ad blockers

Wikia is not accessible if you've made further modifications. Remove the custom ad blocker rule(s) and the page will load as expected.