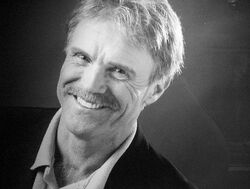 Steve Downes is a successful American disc jockey and voice actor. He is best known for his work as the voice of John-117, the SPARTAN-II protagonist, in Halo: Combat Evolved (and, de facto, in Halo: Combat Evolved Anniversary), Halo 2, Halo 3, Halo: Reach (in Firefight only) and Halo 4.
Biography
Edit
Broadcast radio
Edit
Steve Downes has worked in the music and broadcast radio industry for over 35 years. In the 1980s, he hosted several syndicated radio shows and specials including The Superstar Concert Series. In the 1990s, he was the host of the award winning weekly live call-in show, Rockline.
Rockline provided Steve with several very memorable opportunities, including:
Playing tambourine "live on-air" with the band Little Feat.
Giving the first "live on-air" radio interview to all five members of the reunited Eagles
Welcoming the return of Page and Plant "live on-air"
Currently, Steve Downes works as the host of the morning show on 97.1 WDRV "The Drive" in Chicago, Illinois. Additionally, he hosts his nationally syndicated show, The Classics, every Sunday night. The Classics spotlights various Rock n' Roll artists and their ideas and stories behind the music. He was also the narrator for a series called "Shark Attack!".
Voice acting career
Edit
Steve Downes first voiced in 1999 as Gunnar in the game Septerra Core: Legacy of the Creator, made by Valkyrie Studios. Although it was a minor role, his voice acting was noticed by Martin O'Donnell. When O'Donnell began to work on the first game, he invited Steve to voice act, and he did, even up until Halo 3. Later, he did voice work for an online student animation called "Old Kids", released in March 2010.[1][2] Downes reprised his role as John-117 in Halo: Reach's Firefight mode.
Despite voicing the main protagonist of the series, Steve Downes has never received top billing. He was billed fourth in Halo: Combat Evolved, and third in Halo 3.
When visiting a friend's house in Florida, he was introduced to kids as the "host of a Chicago radio show". The kids were unimpressed, however, he later noticed the kids playing Halo, and told them he was a character in the game. After cycling through multiple names, he finally revealed himself as Master Chief. This caused kids from all around the block to swarm to the house to see him.
Related pages
Edit