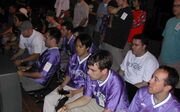 Stefan Sinclair is a programmer and employee of Bungie Studios. He has worked at the company since the summer of 1999, keeping Alex's coffee cup filled and washing Jason's Jeep. He now occupies a desk in the boiler room and has actually not collected a paycheck in years.
External links
Edit
Ad blocker interference detected!
Wikia is a free-to-use site that makes money from advertising. We have a modified experience for viewers using ad blockers

Wikia is not accessible if you've made further modifications. Remove the custom ad blocker rule(s) and the page will load as expected.