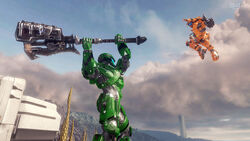 Smashing Punkins was an Oddball variant playable in Halo 4 Matchmaking only on October 30-31st, 2013 as a Halloween celebration.
Smashing Punkins is a free-for-all game of Oddball. All players are given Gravity Hammers with infinite charge. When a player picks up the Oddball, his armor turns orange and he is referred to as the "punkin."
343 Industries chose the name Smashing Punkins because "'punkins' are cooler than pumpkins, and our lawyers told us to avoid using names of world-renowned musical acts as our playlist names."[1]
List of Playlists and Gametypes