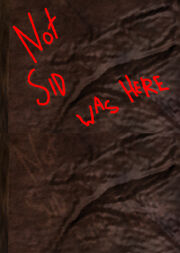 In the Halo 2 map Coagulation, there is a hidden message that says, "Not Sid Was Here" with the initials CMP and the number 10 in tally marks.
Directions
Edit
Go into the cave systems above where the Overshield/Active camouflage spawns, and in the arch/window look to your left and you will see a message in the rock that says "Not Sid Was Here." If you look further to the edge the word, "Not" can be seen, making the message "Not Sid Was Here Not."
Video Directions
Edit
Ad blocker interference detected!
Wikia is a free-to-use site that makes money from advertising. We have a modified experience for viewers using ad blockers

Wikia is not accessible if you've made further modifications. Remove the custom ad blocker rule(s) and the page will load as expected.