Sekmet was the shipboard AI for Admiral Cole's flagship, UNSC Everest, at the Second Battle of Harvest. The AI coordinated the movements and weapons of the entire fleet. Sekmet also performed all of the calculations for the final shot that Admiral Cole ordered that ultimately lead to the destruction of the Covenant's super-destroyer.[1][notes 1]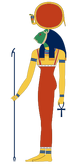 Sekmet is most likely inspired by the Ancient Egyptian goddess of war and destruction: Sekhmet.
Her eyes were known to flash green and gold.
↑ The Covenant ship at the Second Battle of Harvest is referred to in The Impossible Life and the Possible Death as a super-destroyer class of vessel on page 471.
Appearances
Edit
Ad blocker interference detected!
Wikia is a free-to-use site that makes money from advertising. We have a modified experience for viewers using ad blockers

Wikia is not accessible if you've made further modifications. Remove the custom ad blocker rule(s) and the page will load as expected.