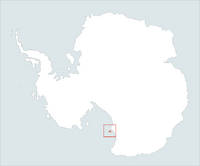 Ross Island is an island on Earth formed by three volcanoes in the Ross Sea by Antarctica, off of the coast of Victoria Land in McMurdo Sound.[1] Historically, Ross Island has been a part of the Sub-Antarctic Islands and overseen by New Zealand.
It is home to two volcanoes, Mount Terror and Mount Erebus, with the latter being the southernmost volcano on Earth.
Human-Covenant War
Edit
Main article: Battle of Ross Island
Ross Island was the location of a fierce battle between UNSC and Covenant forces during the Battle of Earth. There, three Spartan-IIs from the Blue Team destroyed a Covenant excavation.
Ad blocker interference detected!
Wikia is a free-to-use site that makes money from advertising. We have a modified experience for viewers using ad blockers

Wikia is not accessible if you've made further modifications. Remove the custom ad blocker rule(s) and the page will load as expected.