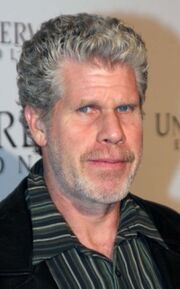 Ron Perlman (born Ronald Francis Perlman in April 13, 1950, in Washington Heights, New York) is an American television, film and voice actor. He voices Lord Hood on Halo 2 and Halo 3.
His first movie was Quest for Fire (1981), which earned him a Golden Globe. He has been acting for over 25 years and has many credits to his name. He has worked in many sci-fi films, including Alien Resurrection (1997) and Star Trek: Nemesis (2002). He has also played superheroes in several movies, such as Hellboy in the movie of the same name (2004) and its sequel, Hellboy 2: The Golden Army. Among other video game roles, he's played superhero Batman in Justice League Heroes and the supervillain the Abomination in The Incredible Hulk: Ultimate Destruction. He is also notable for his video game voice-work in Chronicles of Riddick: Escape from Butcher Bay, and the narrator of Fallout, Fallout 2, Fallout 3, and Fallout: New Vegas.
He has been married to Opal Perlman since February 14, 1981, and he has two children, Blake Amanda (born 1984), and Brandon Avery (born 1990).
External links
Edit