Rob Stokes is an American video game designer and writer. He is currently an employee at Bungie Studios. Raised in Marshfield, Massachusetts, USA, Stokes attended M.I.T. and received a BS in Aerospace Engineering. He then changed paths and attended the American Film Institute in Los Angeles, where he received an MFA in Screenwriting. Soon after, he began work in the video game industry.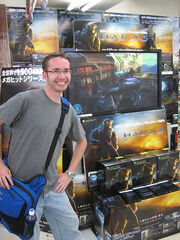 He was credited as a mission designer for Halo 2, and is still an employee at Bungie, he has also worked on Halo 3.
Ad blocker interference detected!
Wikia is a free-to-use site that makes money from advertising. We have a modified experience for viewers using ad blockers

Wikia is not accessible if you've made further modifications. Remove the custom ad blocker rule(s) and the page will load as expected.