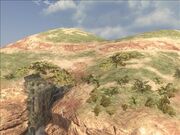 Outpost C9 is a UNSC base on the coast, near Mombasa, Kenya on Earth.[1]
The base was created long ago, but was re-purposed during the Battle of Earth, right after the New Mombasa Slipspace Event.[2]
Subordinate Units
Edit
Numerous units or small elements of units were stationed at Outpost C9.
↑ Halo 3 - Map: High Ground
↑ Halo 3 - Description: High Ground