Outpost C9
Talk

1
8,218pages on
this wiki
Outpost C9
Historical information

Function

Military Base

Usage

Facility information

Armament

Vehicles

Affiliation

[Source]   [Talk]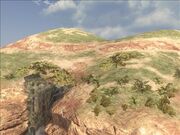 Outpost C9[1] is a UNSC base on the coast, near Mombasa, Kenya on Earth. The base was created long ago, but was re-purposed during the Battle of Earth, right after the New Mombasa Slipspace Event.
Stationed Units
Edit
Numerous units, or small elements of units were stationed at Outpost C9.
It is likely that the base was under the control of NATO in the past, as several NATO symbols can be seen throughout the base. Another possibility is that it was controlled by the UN Marine Corps or UN Army a long time ago.
Outpost C9 is the location of the Halo 3 Multiplayer map known as High Ground.
It is likely that Outpost C9 was destroyed with the rest of New Mombasa.