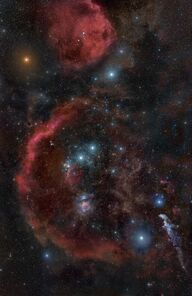 The Orion complex is a large nebular complex in the Orion Arm of the Milky Way galaxy. The nebula was once home to significant Forerunner activity, including their homeworld Ghibalb,[1] located at the outer edges of the nebula, as well as the triple star system housing the homeworld of Bornstellar-Makes-Eternal-Lasting and his family.[2] Due to a series of novas triggered by early Forerunner experiments with astroengineering near their homeworld, the entire Orion complex was brightened for the next fifty thousand years.[1]
The cloud itself is situated between 1,500 and 1,600 light-years away from the Sol system and is hundreds of light-years across. The complex contains several smaller nebulae, and many protoplanetary discs and young stars.[3]
Appearances
Edit
Ad blocker interference detected!
Wikia is a free-to-use site that makes money from advertising. We have a modified experience for viewers using ad blockers

Wikia is not accessible if you've made further modifications. Remove the custom ad blocker rule(s) and the page will load as expected.