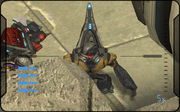 The Oracle N-variant scope is a sniper scope that came with the SRS99C-S2 AMB Sniper Rifle which Linda-058 received from one of the crates that Blue Team had obtained from Base Segundo Terra near Mexico City during the Battle of Earth in 2552.[1]
The Oracle scope has thermal vision, a neutron detector, and increased range. This allows for pinpoint accuracy at distances up to at least 4-5 football fields.
Ad blocker interference detected!
Wikia is a free-to-use site that makes money from advertising. We have a modified experience for viewers using ad blockers

Wikia is not accessible if you've made further modifications. Remove the custom ad blocker rule(s) and the page will load as expected.