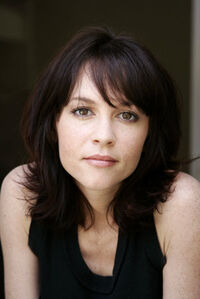 Olivia Burnette, who stands 5' 2" (1.57 m) tall, is the voice talent who played Rani Sobeck in the Halo 2 promotional game, I Love Bees. You can listen to her play Rani, her in the Axon Clip Commissary Shoes.
Born the 24th of March 1977 in San Clemente, California, USA Olivia began her acting career at the tender age of 6. The most notable of her first acting jobs was in Planes, Trains & Automobiles (1987) opposite comic superstar Steve Martin.
Determined to obtain a college degree, Olivia left Los Angeles to attend the prestigious NYU, Tisch School of the Arts. She graduated with not one but two majors: Film and English.
She currently resides in Southern California with her husband, singer/songwriter/producer Julian Sakata, and her five year old stepson, Rain.
External links
Edit