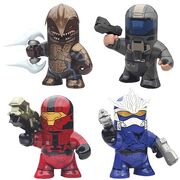 Odd Pods are a new stylized variation of the highly successful Halo figurines created by McFarlane Toys. Odd Pods can be popped apart to have interchangeable heads, torsos and arms for countless customization possibilities, similar to how action figures have interchangeable armor.
They are much smaller than the action figures, averaging about 4 inches (10 cm) each, rather than the usual 6 inches (15 cm) of an action figure. Additionally, the Odd Pods have tiny folded hands, which allow them to hold weapons.
Ad blocker interference detected!
Wikia is a free-to-use site that makes money from advertising. We have a modified experience for viewers using ad blockers

Wikia is not accessible if you've made further modifications. Remove the custom ad blocker rule(s) and the page will load as expected.