New Mombasa Parks and Recreation, or NMPR, was the department responsible for the parks and recreational areas in New Mombasa, on planet Earth. Parks such as the Uplift Nature Reserve and Kilindini Park Cultural Center are two parks featured in Halo 3: ODST and Halo 2 that are monitored and managed by the NMPR department.[1]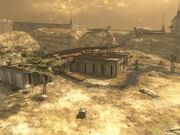 Ad blocker interference detected!
Wikia is a free-to-use site that makes money from advertising. We have a modified experience for viewers using ad blockers

Wikia is not accessible if you've made further modifications. Remove the custom ad blocker rule(s) and the page will load as expected.