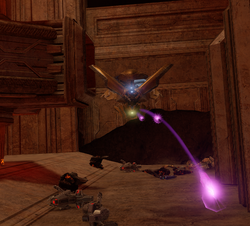 The Needler Sentinel is a Forerunner Sentinel that can be found on the Halo 2 Campaign Level Quarantine Zone. It is a Sentinel Major that appears once at random places in the level Quarantine Zone. It shoots Needler rounds rather than the conventional Sentinel Beam and when destroyed, drops a Needler.
The Needler Sentinel can be found on the leftmost side of the first glowing orange indoor area within the ruins of the Sentinel manufacturing facility.
Ad blocker interference detected!
Wikia is a free-to-use site that makes money from advertising. We have a modified experience for viewers using ad blockers

Wikia is not accessible if you've made further modifications. Remove the custom ad blocker rule(s) and the page will load as expected.