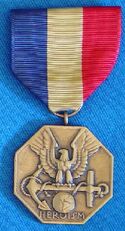 The UNSC Navy and Marine Corps Medal is an award given to UNSC soldiers who are part of the Navy or UNSC Marine Corps. The Navy and Marine Corps Medal may be awarded to service members who, while serving in any capacity with the Navy or Marine Corps, distinguish themselves by heroism not involving actual conflict with an enemy. Typically, it is awarded for actions involving the risk of one's own life.
Recipients
Edit
Ad blocker interference detected!
Wikia is a free-to-use site that makes money from advertising. We have a modified experience for viewers using ad blockers

Wikia is not accessible if you've made further modifications. Remove the custom ad blocker rule(s) and the page will load as expected.