Muroto is a moon of Chi Ceti IV.[1]
Muroto has natural crystalline surfaces. The UNSC started mining these resources for the SPARTAN-II Program at the Damascus Testing Facility on Chi Ceti IV. Many mining facilities sprung on the moon to facilitate the UNSC's needs.
A War Games simulation named War Games Map_Set/: 593-6 was created for SPARTAN-IVs taking place on Muroto.[2]
Corporations on Planet
Edit
Physical Aspects
Edit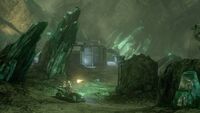 An unknown crystal protrudes through much of the surface.[2] Sometime near 2557, areas of the moon have been experiencing intense meteorlogical phenomena and volcanic activity.[1]
Appearances
Edit
↑ 1.0 1.1 Halo 4: The Essential Visual Guide, Page 220