"A mix of games for more than two teams. Like Free For All, but with a partner to work with."

— In-game description for

Halo 3

's social Multi-Team playlist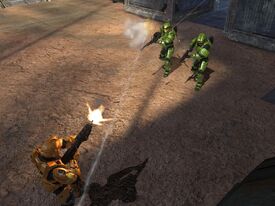 Multi-Team is a Halo 2, Halo 3 and Halo: Reach multiplayer gametype that pits four teams of three people (two in Halo 3) against each other in slayer and objective based variants. It is unranked and guests may join.
Ranked: No
Min Players: 12
Max Players: 12
Team Count: 4
Min Party Size: 1
Max Party Size: 12
Special rules: Guests allowed, any size party may join

Playlist Maps
Edit
Ranked: No
Min Players: 8
Max Players: 8
Team Count: 4
Min Party Size: 1
Max Party Size: 8
Special rules: Guests allowed, any size party may join

Playlist Maps
Edit
Related Pages
Edit
List of Playlists and Gametypes