Mongolia is a country just south of the center of the continent of Asia on Earth. Its official language is Mongolian, and it shares borders with Russia and China.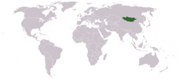 The Spartan 1.1 faction claimed to have a Pelican hidden in a bunker in Mongolia, which they would use to fight against the Covenant.[1]
Topography
Edit
It is also one of the Earth's highest countries in terms of elevation, and suffers from extreme temperatures.
Appearances
Edit
Ad blocker interference detected!
Wikia is a free-to-use site that makes money from advertising. We have a modified experience for viewers using ad blockers

Wikia is not accessible if you've made further modifications. Remove the custom ad blocker rule(s) and the page will load as expected.