Mjolnir Powered Assault Armor/Vanguard
Talk

0
Share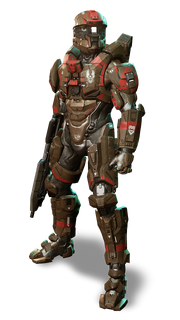 The Mjolnir Powered Assault Armor/Vanguard, or simply just Vanguard armor, is a Mjolnir [GEN2] variant used by SPARTAN-IV personnel. It is manufactured by Hannibal Weapon Systems, tested at Kotka, Pori, New Carthage, and was designed solely for face-to-face combat with enemy forces.[1]
Gameplay notes
Edit
The armor is unlocked upon completing the Forerunner Destroyer Commendation. The "Converge" alternate skin is unlocked upon completing the CTF Victory commendation.
Ad blocker interference detected!
Wikia is a free-to-use site that makes money from advertising. We have a modified experience for viewers using ad blockers

Wikia is not accessible if you've made further modifications. Remove the custom ad blocker rule(s) and the page will load as expected.