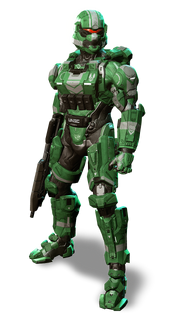 Mjolnir Powered Assault Armor/Soldier is a Mjolnir [GEN2] variant used by SPARTAN-IV personnel on the UNSC Infinity and is manufactured by the Office of Naval Intelligence Materials Group.[1]
Although it is capable of operating in a direct combat role, SOLDIER-class armor usually functions in support capacity on the battlefield. The armor system features components that are visibly utilitarian and functional in nature. It is unlocked by reaching the rank of SR-15.
Ad blocker interference detected!
Wikia is a free-to-use site that makes money from advertising. We have a modified experience for viewers using ad blockers

Wikia is not accessible if you've made further modifications. Remove the custom ad blocker rule(s) and the page will load as expected.