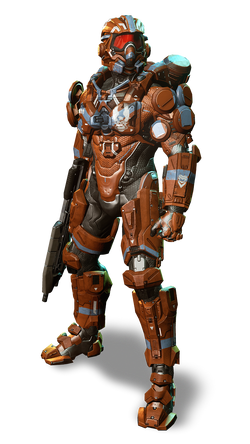 The Mjolnir Powered Assault Armor/Aviator is one of the many variants of the Mjolnir [GEN2]. It is manufactured by Hannibal Weapon Systems and was tested in Kotha, Pori, New Carthage. It is meant for the use of F-41 Exoatmospheric Multirole Strike Fighter, Longsword, Sabre, and Shortsword.
Spartan pilots meeting D3-17 regulations and higher must be outfitted in AVIATOR-class armor for all Broadsword A/X engagement operations to comply with standard asset security protocols and the Budgetary Retention Hearings of 2554.[1]
Ad blocker interference detected!
Wikia is a free-to-use site that makes money from advertising. We have a modified experience for viewers using ad blockers

Wikia is not accessible if you've made further modifications. Remove the custom ad blocker rule(s) and the page will load as expected.