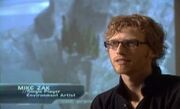 Mike Zak, aka Protégé, is an artist at Bungie Studios. Born in Victoria, Canada, he has worked on many projects related to the development of Halo 2. His credits with the company include:
Halo 2, Multiplayer map pack (2005), Microsoft Game Studios
Halo 2 (2004), Microsoft Game Studios
Red Faction II (2002), THQ, Inc.
Halo: Reach (2010)
Ad blocker interference detected!
Wikia is a free-to-use site that makes money from advertising. We have a modified experience for viewers using ad blockers

Wikia is not accessible if you've made further modifications. Remove the custom ad blocker rule(s) and the page will load as expected.